Your Employees are Professionals...Show It!
Hat Snaps allow you to clean up your hardhats with a professional appearance that customers will remember and you employees will be proud to display.

Great Looking – Your logo and design on every employee


High Visibility – On your employees hard hats everyday


Easy to use – Snaps right into the accessory slot on most hard hats.


Safe – all exposed surfaces on non conductive, does not require any modification to the hard hat.


Employee Pride – not a cheap sticker that looks tacky, but an award that your employees will proudly display their important achievements with your company!


Easily updated – New Awards can be changed out in a matter of seconds with no tools required.


Quality Award – gives your employees a unique and personal award that they can be proud of.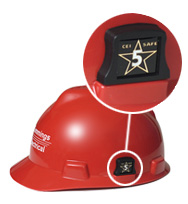 Displayed Daily – unlike a pen or lapel pin (that sits at home or in a desk drawer) this award will be displayed every day on your employee's hard hat in their work environment.


Easily Recognizable – by all your employees and customers and lets them recognize your long term or top performing employees.